Date of announcement of the smartphone OnePlus 5 was repeated so many times that it was hard not to remember, but now have the impression that by June 20 to write something special is about. I mean, all the talk in great detail in advance.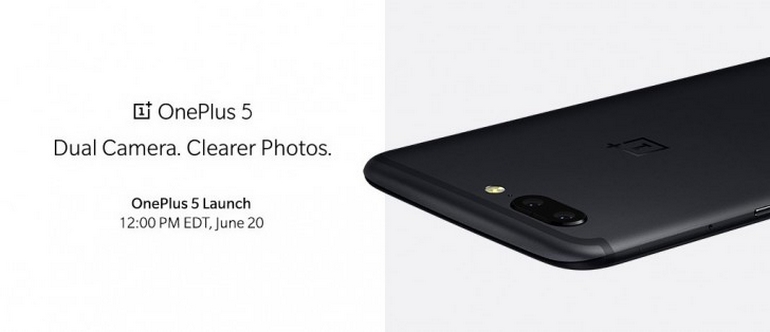 What can I say, if the company itself OnePlus, without waiting for the scheduled date of the announcement, published an official image of the device. It OnePlus 5 shown only partially, more precisely, is visible most of the back of the device with dual camera main antenna and almost imperceptible strip at the upper edge (at a lower, probably, there is the same). As you can see, the image is in good agreement with those that we published a few days ago, which indicate the external similarities with the iPhone 7 Plus. On the direct rough copy here, of course, no question, but the similarities with Apple smartphones – is available.
Simultaneously OnePlus 5 marked in the database several benchmarks. In particular, the results of OnePlus 5 appeared in the test Geekbench and GFXBench , which made it possible to confirm the basic characteristics of the device: SoC Snapdragon 835, 5.5-inch screen Full HD, 8 GB RAM, 128 GB of flash memory, and operating system Android 7.1.1.
It is expected that OnePlus 5 will be available in two versions with different amounts of RAM and a built-in flash memory. Minor version receive 6 GB of RAM and a 64 GB flash memory, the oldest – 8 GB and 128 GB of RAM-flash memory.
Yesterday, we learned that in Europe OnePlus 5 will be offered at a price of 550 euros, and today became known the price of the smartphone in India: for a younger model listed price of $ 513 for the older – $ 591. In comparison, for the OnePlus 3T on the market asking $ 439 (the version with 64 GB of memory) and $ 479 (128GB), respectively. The reliability of these data is still in question, but this is not the first report that OnePlus 5 will be significantly more expensive than its predecessor OnePlus 3T.