Insider Evan Blass (@evleaks), which regularly provides the public with reliable information on products not yet released the IT-industry, shared the "spy" image, allegedly made during the presentation held Motorola behind closed doors. It depicted Motorola plans to release a smartphone this year.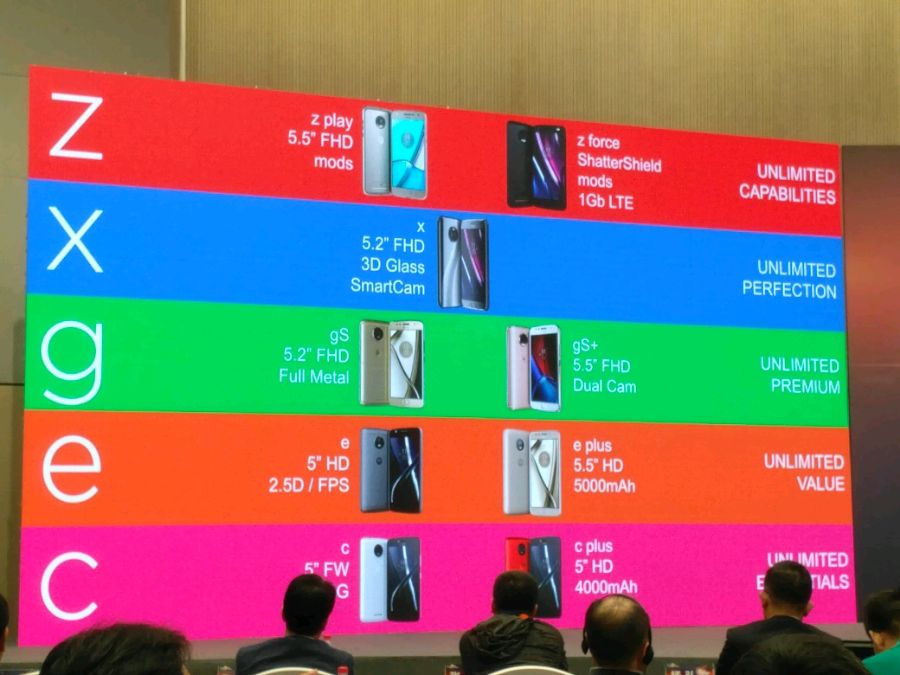 As you can see, this year under the brand Moto plans to release nine new smartphones in five product lines: Z, X, G, E and C. As noted on the slide, the flagship model Moto Z Play and Z Force with the support of a new generation of functional expansion modules Moto Mods It offers "unlimited possibilities". First get a screen diagonal of 5.5 inches and a resolution Ful HD, and for the second claim to support LTE and Gigabit proprietary technology Moto ShatterShield, making the device screen is unbreakable.
X Series will be represented by a single model of Moto X, which will receive a Full HD screen diagonal of 5.2-5.5 inches. Especially do not hesitate manufacturer calls a series of "total perfection". It is believed that the Moto X 2017 model will be released under the name Moto X4. According to rumors, the smartphone will receive a 3D-glass and an intelligent camera SmartCam.
The updated G series models will be presented and Moto G5S G5S +. First get a full metal body and 5.2-inch screen resolution of Full HD, while the second will get a 5.5-inch Full HD screen and dual main camera. This series describes the manufacturer of the words "an absolute premium» (UNLIMITED PREMIUM – so, in large letters).
Rounding out the lineup Moto smartphones this year, the budget line E (UNLIMITED VALUE) and C (UNLIMITED ESSENTIALS). In each of them will be two models. Model Moto E and Moto E Plus receive HD screens, but the youngest is 5 inches diagonal, and the older – 5.5 inches. The slide also mentions the use of curved glass with the effect of 2.5D and a fingerprint scanner, and the presence of the battery capacity of 5000 mAh the older model. Detailed specifications and prices Moto E4 and Moto E4 Plus smartphones can be learned from previous notes . On the new Moto C and Moto C Plus we also have been told .
Unfortunately, information about the release dates of new products on the slide there.